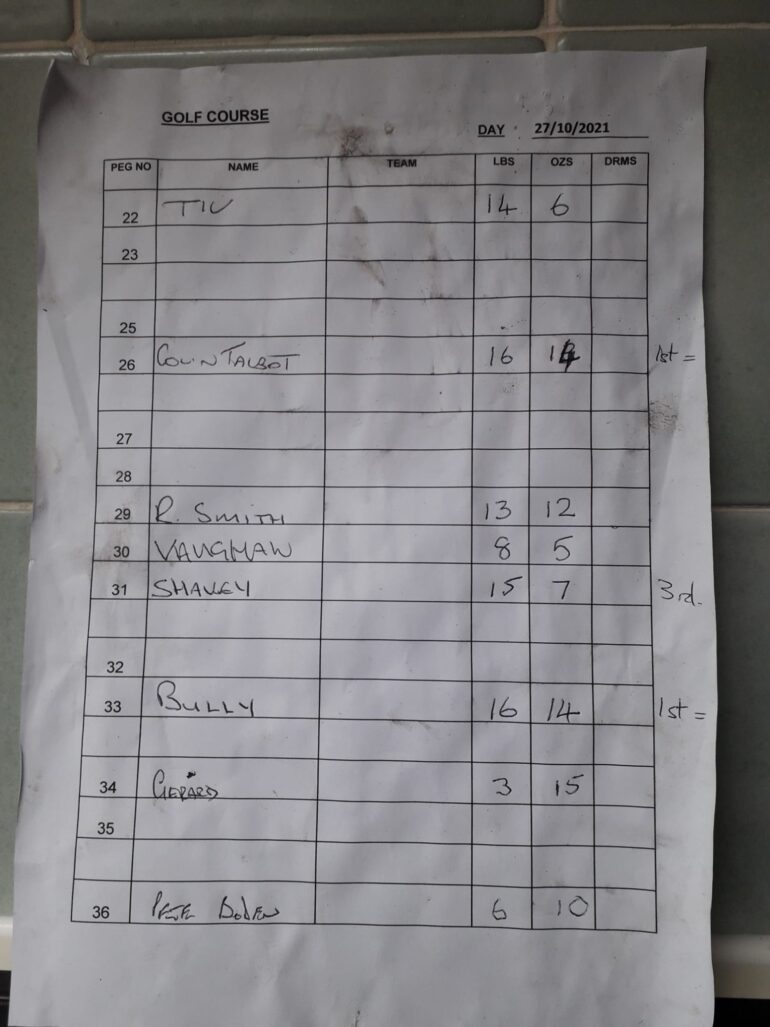 Branston Golf Course Open match Wednesday the 27th October 2021
The weekly River Trent open Match at Branston Golf course went ahead today.
It takes more than a bit of rain and wind to put these brave souls off from their fishing.
As we all know the river along with a lot of other waters have been very inconsistent of late, this is obviously down to the weather. It just wont seem to settle on one thing or another, we either have it very cold for a few days followed by warm runs or a few days of heavy rain followed by warm dry periods.
hopefully the first frosts will hit us soon and things should, fingers crossed- settle down.
regardless of the weather some things never change, such as quality anglers.As you can see from the results Mr Bull was back up to his old tricks on a joint first place with Match organiser Colin Talbot (Little).
Both had a tremendous weight of 16lb 14oz.
Dave Shakesphere coming Third with another double figure bag- 15lb 7oz.
There were 5 double figures nets coming out on the match, which is obviously great to see.
Keep your fingers crossed for the frost and more importantly get yourselves out on the banks, even jump onto one of the many open matches in the area. Winter can be one of the best times to target some fish. If anyone is interested in fishing any of the matches, then please by all means get in touch.
Tight lines folks